The Master and the Staff
Stefania Venturi
Stefania Venturi - Trainer
Stefania Venturi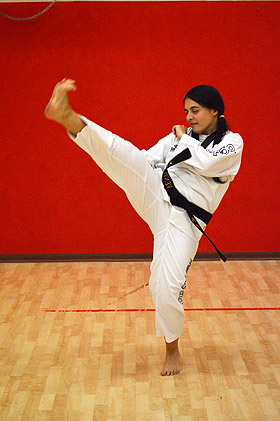 4th Dan Black Belt
Trainer since 2009
Fight and Poomse Referee
Educator with more than 10 years of experience in teaching at nursery school children. She introduces children from 4 to 7 years old at tae kwon do, during specific courses, since 2009.
Qualified also as Professional Operator in favor of persons with disability, she guarantees with her presence in the Association and with her support, a special attention to the specific needs of such persons also in sport practice. Sport practice, which is not only a recreational time but also useful moment for educating, rules learning and socialization.
She is a member of the Association agonistic group for poomse.
Best Results
Poomse
Bronze medal at 1999 Italian Junior Championship.
Several medals at Regional and Interregional Championships.